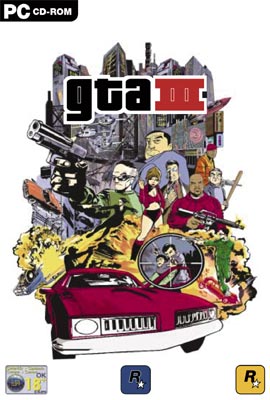 Grand
Theft Auto III (abbreviated as GTA III or GTA3) is a sandbox-style
action-adventure computer and video game developed by DMA Design (now
Rockstar North), and published by Rockstar Games. It is the first 3D
title in the Grand Theft Auto (GTA) series and the third original title
overall. It was released in October 2001 for the PlayStation 2 video
game console, May 2002 for Windows-based personal computers, and in
November 2003 for the Xbox video game console. The game was preceded by
Grand Theft Auto 2 and succeeded by Grand Theft Auto: Vice City.
The
game centres on a nameless criminal[1] who was betrayed by his
girlfriend in a bank heist, and is required to work his way up the crime
ladder of the city before confronting her. Like its predecessors, GTA
III implements sandbox-like gameplay, where the player is given the
freedom to explore a large city, complete missions, commit criminal
acts, or complete side missions.
The game's concept and gameplay,
coupled with the use of a three dimensional game engine for the first
time in the series, contributed to Grand Theft Auto III's positive
reception upon its release; it quickly became 2001's top selling video
game[6] and is cited as a landmark in video games for its far-reaching
influence within the industry.[7] GTA III's success was a significant
factor in the series' subsequent popularity; as of 2008, five GTA
prequels set before events in GTA III have been released. GTA III's
violent and sexual content has also been the source of moral panic and
controversy.
rapidshare.com GTA_III.part01.rar
rapidshare.com GTA_III.part02.rar
rapidshare.com GTA_III.part03.rar
rapidshare.com GTA_III.part04.rar
rapidshare.com GTA_III.part05.rar
rapidshare.com GTA_III.part06.rar
rapidshare.com GTA_III.part07.rar
rapidshare.com GTA_III.part08.rar
rapidshare.com GTA_III.part09.rar